Counsel for What Matters Most
Evans Fox LLP is a law firm in Rochester, NY and our tagline is Counsel for What Matters Most. It appears on every piece of correspondence sent and is meant to demonstrate that when clients choose to spend their hard-earned money for legal services it is usually on a matter foremost on their minds at the time. Whether the matter is simple or complex, routine or extraordinary, the firm honors our clients' trust by recognizing the importance of each case.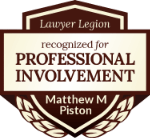 Areas of Practice
A brief overview of our practice areas.
Business Law
Our business attorneys are here to help with all of your questions regarding entity formation, the purchase of a business, the sale of your business, contracts among owners, or contracts with third parties.
Divorce & Family Law
Our Divorce and Family Law attorneys are here to represent you in Separations and Divorces, post-divorce issues, child support orders, modifications and enforcement, drafting pre and post nuptial agreements, and adoptions.
DWI & Criminal Defense
Our DWI and Criminal Defense attorneys are here to represent you in your time of need and have extensive experience representing clients who have been accused of white collar crimes, misdemeanors, felonies, DWI, and traffic matters.
Litigation
Our Litigation attorneys are highly skilled and experienced in many areas of the law including real estate claims, estate litigation, personal injury and tort claims, employment and labor law, appellate litigation and guardianship matters.
Real Estate
Our Real Estate Practice Group at Evans Fox, with over 125 years of combined real property law experience and a relentless attention to detail, enables us to assist individual and institutional clients in all real property law matters from house closings to multi-million dollar tax credit financing transactions.
Trusts, Estates & Elder Law
Our Trusts, Estates and Elder Law attorneys help prepare basic and complex plans that are unique to each client and designed to help maintain control and provide peace of mind in the event of an incapacity, death, or long-term care concern.
Our Attorneys
Our attorneys cater to various aspects of law.
What Our Clients Say
We have had a very positive experience with Kenneth Kraus, Esq. of Evans Fox, LLP. Not only was he very knowledgeable, but he continually demonstrated other important qualities. Detailed, timely, follows through, empathetic, professional, but friendly with a sense of humor. All these positive attributes make Ken a most trusted and valued attorney. Our experiences with his staff have also been productive. We would highly recommend Kenneth Kraus, Esq. and Evans Fox, LLP. Respectfully yours, D/G
We had not updated our wills for decades. Ken Kraus came highly recommended. He is intelligent, energetic, personable, professional, and explains the whole process in a manner that is easy to understand. We have recommended him to relatives and friends alike. If you need to get your affairs in order, Mr. Kraus is the man to see!
Working with Gerard A. and his team was a great experience. As my Wife and are approaching our retirement years, we had some will, etc, adjustments that were required. They did a great job getting us updated, and also helped us to avoid a poor decision that we were about to make. Great experience!
Evans Fox did a very thorough job in making sure we got into our first house! Ashley Richardson was our attorney & she did an amazing job throughout the entire process. Gretchen Savary also did an amazing job finalizing paperwork & answered all of our 1,001 questions. I highly recommend Evans Fox to anyone looking to purchase a home! 5 stars!
I recently worked with Evans Fox, specifically Attorney Kristin Corsi, to help facilitate the purchase of my first home. Kristin was outstanding to work with! She was extremely responsive and if at any point she was out of the office, her team member Cass was right on it and always there to help. They answered every question I had and went above and beyond to explain the entire process. They even helped me achieve my goal of closing early! I have already recommend Kristin and will continue to recommend her to anyone who is in need of a real estate attorney.
After an accident that left me with some disabilities, Jon Bonavilla from Evans Fox worked hard to get me a law suite settlement. He was responsive and compassionate regarding my injuries and financial dilemma from not being able to work, and he worked diligently with the insurance company's attorney on my behalf to negotiate my settlement, despite a reluctant insurance company. He's an amazing negotiator and got the job done. I would recommend turning to Jon and his team at Evans Fox for ANY legal issues you may have.
I have nothing but good things to say about Evans Fox overall and about Ken Kraus and Joanne Wheatley in particular. They helped me through the very difficult and trying process of managing my mother's estate. They were professional, responsive, communicative, thorough, and – most importantly – unfailingly kind. I have already recommended them to other friends and will gladly do so again.
Discover Our Latest News
Learn more about what's going on at our firm.